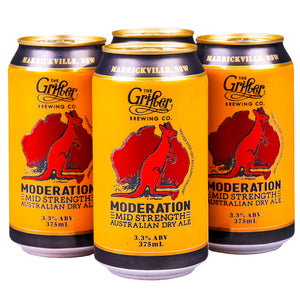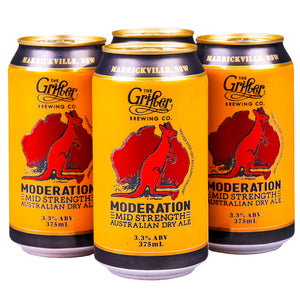 On Sale
MODERATION MID-STRENGTH 375ML CANS (4 PACK)
"Never Get Rolling Drunk"
Moderation - Australian Dry Ale
Using 100% Australian ingredients, this delicate & dry crisp ale will be sure to hydrate your parched palette all Summer long. Hopped with restraint using Galaxy and Eclipse, it highlights the importance of simplicity while indulging in the finer things in life.

- 375ML CANS
- 3.3% ALC | VOL
 PICK N' MIX AVAILABLE - CLICK HERE
It is against the law to sell or supply alcohol to, or obtain alcohol for, anyone under 18

PLEASE NOTE: All alcoholic orders will require a photo ID and signature on delivery.